Company History

Goodrich Auction Company Inc. was first established in the mid 1960's as Bob McIntyre Auction Service utilizing the combined auction expertise of Bob McIntyre and joined by David Goodrich in 1979. Located in Niles Michigan, our primary role as an auction company was to conduct personal and real property auctions of businesses, farms and estates while also maintaining an auction house for over 20 years.
After the saddening loss of Bob McIntyre in 1984, David Goodrich took over the business and launched Goodrich McIntyre Auction Company Incorporated. In 1989 David Goodrich collaborated his auction expertise with his real estate experience and created Goodrich McIntyre Real Estate and Auction Company, Inc. based out of South Bend, Indiana. This allowed for the hiring of experienced real estate agents and auction personnel.
In 1986 the auction house was closed to become an "On-Site" auction company. This allowed for better service to our auction clients in addition to the traditional marketing needs of our real estate clients. A new office was established in 1990 at 421 Lincolnway West in Mishawaka, Indiana and provides a convenient central location to North Central Indiana and Southern Michigan.
In 1996, David Goodrich decided to broaden his scope of business and purchased a RE/MAX franchise which he owned until 2000. In 2000 David Goodrich made the decision to sell his RE/MAX franchise in order to focus more on the advantages of his auction business and marketing real estate.
As a Real Estate Broker since 1989 and currently with Hallmark Real Estate, David Goodrich is able to properly market real property whether it be sold traditionally or via the auction process. As the owner of the leading auction company in the area, Goodrich Auction Company Inc. offers a much needed service by providing an economical method of liquidating assets while obtaining maximum returns.
"Trusted Professionals * Years of Experience"
David W. Goodrich
Auctioneers License: AU01040401
Real Estate License: RB1401948

9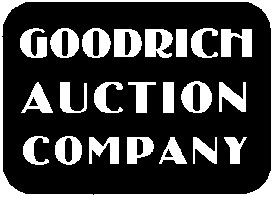 Goodrich Auction Company
421 Lincolnway West
Mishawaka, IN 46544
Toll Free Office: 877-657-1990
Office: 574-255-2556
Email: davidwgoodrich@cs.com